I don't like to dwell in the past, but in celebrating the new decade, lets clink our champagne glasses and quickly take a last look at 2019. We had some incredible skincare products drop into our hands over the past year and although it's the end of a decade, it's the beginning of a revolutionary era for skincare. Looking back, here's a handful of what 2019 has blessed us with:
Glossier 'Futuredew' Oil-Serum Hybrid, $24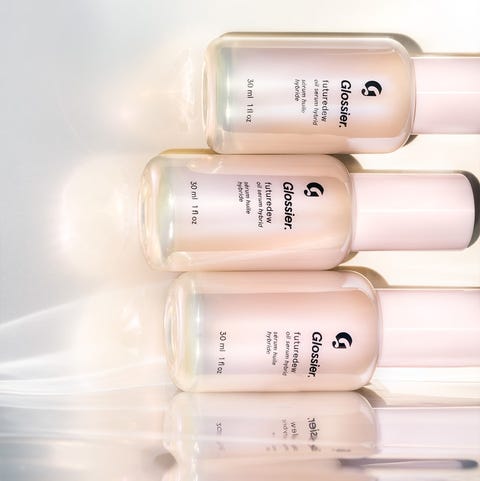 An instant holy grail upon the first application. At this point, Glossier has quite the reputation for developing cult staples we cannot leave the house without, so when Futuredew dropped, I immediately purchased it without even reading the product description . This gorgeous, glowey oil-serum hybrid is an epic drink of water for dry skin. A dewey sheen on the skin to imitate a post-facial glow, while improving the skin's radiance over time with daily application, please don't pinch me if I'm dreaming. Generously apply 1-2 pumps as a moisturizer after stepping out of the shower on those no-makeup days, finish your skin off with Futuredew as the last step in your routine, or dab a bit into your cheek bones with your favorite Glossier Cloud Paint cream blush after applying foundation for a dewey glow that will last you all day long.
Ouai Body Crème, $38
A fluffy, whipped texture crème that melts into the skin without transferring onto clothing. Hydrating cupuaçu butter and coconut oil work to revive dehydrated skin, while squalane oil, a potent antioxidant, works to fight free radicals and conditions the skin and protects its moisture barrier. The Body Crème is generously laced with a sparkling, bright fragrance of citrus, rose, violet, and white musk — a scent formulated to compliment rather than clash with other Ouai products. God bless Jen Atkin.
OUAI Eau de Perfume in "North Bondi", $56
Technically, fragrance isn't skincare. But for such a ground-breaking scent, I'm including it here. North Bondi initially did not drop in 2019, but 2019 certainly was the year that it went from a limited edition to a regular product now available all-year round. North Bondi was a memorable scent that initially captured our hearts when the (now multiple award winning) Wave Spray dropped. North Bondi quickly became a fragrance cult favorite that sent the world in a frenzy when it was released as a limited edition fragrance, selling out within the hour each time. It's safe to say I'm speaking on behalf of the general public when I say how happy I am that it's readily available all year round.
First Aid Beauty Ultra Repair Hydrating Serum, $38
This was one of those products that took my breath away just rubbing a sample of it onto the back of my hand. This lightweight gel delivers some serious moisture, and leaves the perfect amount of tackiness to prime the skin for a flawless foundation application. Packed with hyaluronic acid to hydrate, anti-aging peptides to prevent wrinkles or fine lines, collagen to plump and improve the skin's texture, while colloidal oatmeal and aloe leaf juice work together to calm the skin while reducing redness, inflammation and irritations.
Summer Fridays CC Me Vitamin C Serum, $64
This brightening serum is no joke if your skin is combating a serious case of dullness. The light gel-like formula is packed with a cocktail of botanical magic. Antioxidant-rich ingredients from coffee, great tea and clove treat inflammation, while the squalane fights damaging free-radicals and moisturizes skin. To top it off, the CC Me Serum contains two forms of vitamin C that work to visibly brighten the skin and treat hyperpigmentation, dark spots, acne scars, and/or an uneven skin tone. Phew!
Glossier Milky Oil, $12
A mixture of oils and micellular water work together to draw out impurities of the pores, while powerful natural elements, such as pro-vitamin B5, protein-rich plants and comfrey root extract, moisturize and sooth the skin. The Milky Oil can also be used in a two-step oil cleansing method, for primarily loosening up stubborn makeup before washing with the complimentary, cult favorite, Milky Jelly Cleanser.
Biossance Squalane + Rose Vegan Lip Balm
A vegan lip balm with ceramides, hyaluronic acid and Wakame algae that all work together to visibly plump and moisturize the lips while the squalane and rose absolute —powerful antioxidants— work to seal in the moisture, protect from and fight free-radicals. One application lasts all day long. The best part? VEGAN! Cruelty free! Petroleum free! All that bullshit out the window! 100% honesty, 100% THE. BEST.
Herbivore Botanicals Bakuchiol Retinol Alternative Serum, $54
This reparative botanical oil feels as extravagant as it would be napping in a tub full of precious gemstones and purple Babchi flowers. This luxurious facial oil is a beautiful natural alternative to retinol, derived from the Ayurvedic Batch plant, that targets fine lines, wrinkles and deeply hydrates the skin. Use it as the last step in your nightly skincare routine. Use one of Herbivore's Jade or Rose Quartz facial rollers with this facial oil for the ultimate self-care experience.
Shop here.
Tatcha The Dewy Skin Cream, $68
This beautiful pastel purple potion is a savior for dry skin. The cream is rich with Japanese Purple Rice, an antioxidant that's hailed for its ability to recover the skin and protect it from damaging environmental elements such as pollution, stress, free radicals and UV damage. Okinawa algae and hyaluronic acid work together to protect the skin's moisture barrier, while ginseng, thyme and sweet marjoram leave that dewey post-facial glow we're always trying to recreate. Get it here.
Peace Out Acne Healing Dots, $18
These cute little acne patches are revolutionary in making medical-grade skin care safely accessible to the general public to do from the comfort of their home. These little stickers are infused with some serious acne fighting ingredients. The stickers deliver salicylic acid to clear up the acne-causing bacteria and the area associated, aloe vera to sooth and reduce any redness, and a punch of vitamin A that assists in cell turnover, prevent future clogged pores and to fade dark spots or scarring. Stick these little patches on all of your pimples, go to sleep and wake up to a clear face the next day. The best part is that if you're wearing these during your downtime, the stickers prevent the habitual picking (which makes a huuuuuuge difference in the healing process!).
Glow Recipe Avocado Melt Retinol Sleeping Mask, $42
I love me a good mask that I can lather generously all over my face, without needing to wash it off until the next morning. Glow Recipe's sleeping mask is packed with avocado which is packed with antioxidants for damage control, PHA to gently exfoliate the skin and encapsulated retinol. The sleeping mask works to resurface the skin while moisturizing it, making the phrase 'beauty sleep' a literal dream come true.
Check it out here.
Kylie Skin Face Moisturizer, $24
This is a really well rounded moisturizer. For her first-ever moisturizer that she launched earlier this year, she really nailed a quality daily moisturizer that works universally among sky types and contains enough product for the price. The closest comparison in terms of the quality and texture of this scent-free face moisturizer could be compared to Glossier's cult favorite face priming moisturizer.
Shop here.
Glossier Bubblewrap Eye + Lip Cream, $26
One of my personal favorites from 2019 that I've talked about over and over again and will continue to do so. The cream to oil formula goes a long way, with a half a pump being enough to moisturize the delicate eye area, and finish off by tapping the remainder of the cream onto the lips. One of the best eye creams I've had my hands on —keep in mind, I've been religiously using eye cream since I was 13 years old— I'm 29 now, so if you do the math, you'll agree that I've had plenty of years of experience with products enough to know what works and what doesn't.

Shop here.